If you're looking for a place to have a drink, we have two bar areas to relax in. Why not head into the bistro bar and enjoy a refreshing beverage?
Our other bar area features TAB betting facilities including Sportsbet and Trackside for those professional punters.
Promotions Available at the Bar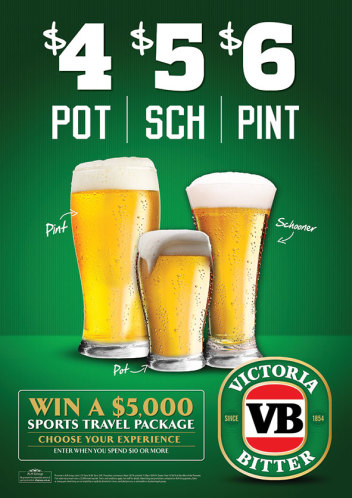 Win a $5,000 Sports Travel Package
Drop by for a big cold VB at some of the best prices in town: $4 a pot, $5 a schooner or $6 a pint.
Plus, enter the draw to win a sports travel package of your choice to the value of $5,000, when you spend $10 or more across the bar.
Promoter is ALH Group, Level 2, 10 Yarra St, South Yarra 3141. Promotion commences 1/8/14 and ends 30/9/14. Drawn 11am 15/10/14 at the office of the Promoter. First valid entry drawn wins a $5,000 travel voucher. Terms and conditions apply - see staff for details.
Available all day every day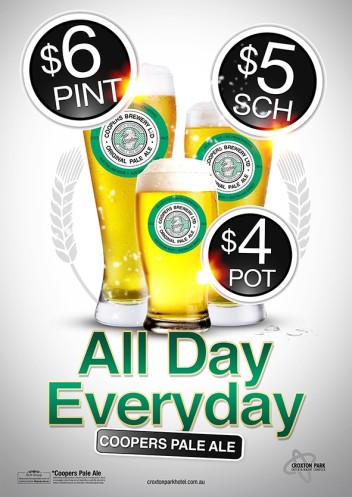 Coopers Pale Ale All Day Every Day
$4 Pots, $5 Schooners and $6 Pints
Coopers Pale Ale lover?
You don't want to miss this amazing deal – $4 pots, $5 schooners and $6 pints!
Available all day everyday!
Every Day Drink Specials At The Bar
Great drink specials currently available across the bar:
Carlton Draught - $8.00 (570ml pint)
Corona Extra - $8.00 (355ml bottle)
Smirnoff Ice Red - $8.00 (300ml bottle)
Smirnoff Red - $7.00 (30ml nip & mix)
Smirnoff Double Black - $7.50 (30ml nip & mix)
Wine of the Month: Wolf Blass Yellow Label Chardonnay or Cabernet Sauvignon - $7.50 (150ml glass), $30.00 (bottle)
Conditions may apply. Enjoy responsibly.